This tabletop exercise simulates a major, multi-agency incident in a large county (population of two million). The tabletop will enable participants to identify the strengths/gaps in current policies, procedures, and resources related to communication systems during a pandemic influenza. Participants will focus on answering questions such as: Who should be responsible? What communication channel should be used? When should information be given out?
A pandemic flu event. An earthquake. There are any number of disasters that can disrupt the work of your institution. How do you keep business, research and academic functions on track? This series of three continuity tabletop exercises will allow you to simulate such an event and discover the strong and weak links in your response and continuity plans. The exercises lead to the creation of stronger policies and better emergency response. The CD includes templates for you to customize for your organization.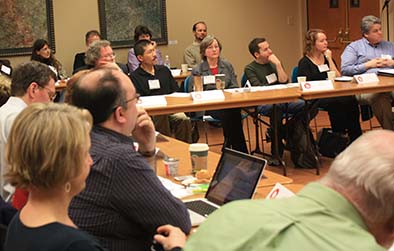 This tabletop exercise tests the adequacy of emergency response plans during all phases of a simulated pandemic influenza event at a university. The exercise involves a communicable disease outbreak that affects three campuses and is geared for administrators, unit leaders, and departments, as well as external agencies who will have to interact with a university during a pandemic.